Day three in a row! Wahoo!
Our craft today is brought to you by Renae Curtz, MDF who gave me the pretty little dish in the photo of the bookmark. YTR, Renae!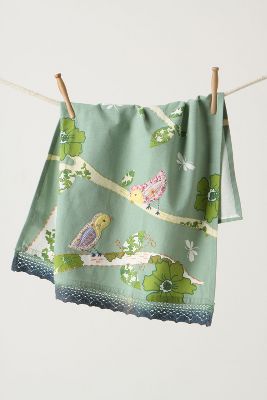 Inspired by
this kitchen towel
at Anthropologie, I wanted to try my hand at stitching onto a printed cotton. I did a little bird on a pincushion for Christy for Christmas and thought it was okay, but not as cool as I had hoped. So then I tried just stitching around the printed images of the fabric and, with this fabric design at least (I think it's a Heather Bailey fabric--can't find it online), quite liked the results.
I also figured out after making Christy's pincushion, the thread color needed to contrast highly from the fabric colors. I think the next step will be to stitch a piece large enough to make a dishtowel.